From classic ivory calla lily bouquets carried down the aisle by blushing brides and bountiful blooms of lavender hydrangeas towering above guests as they sip champagne, to elegant and soft rose petals lending pops of color to artfully designed tablescapes and bold bohemian bridal crowns made of vividly hued wildflowers, florals have long been an exquisite element of weddings.
10 Chic Floral Decoration Concepts
More often than not flowers are the thread that binds together the individual components of wedding
design concepts. They add just the right finishing touch and texture to complete any style for an affair to
truly remember.
Whether you're feeling rustic, romantic, classic or modern we've found the perfect floral decoration
ideas to complete your wedding look and have highlighted ten of them below!
Worn Planters with Overflowing Greenery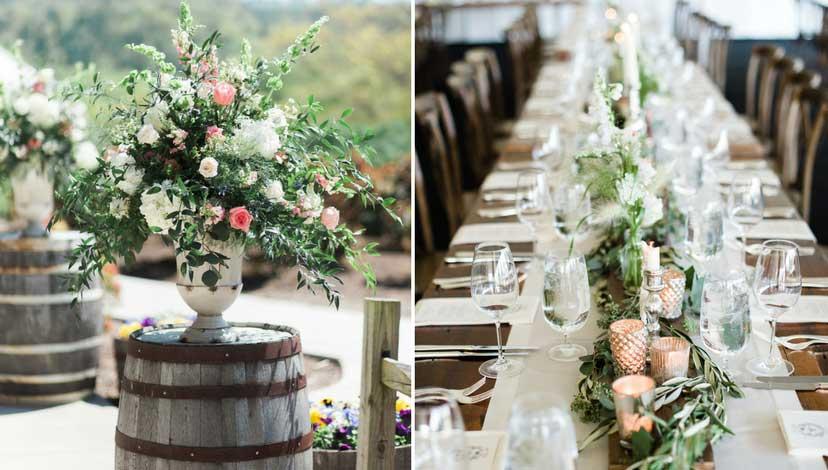 Carrie Coleman Photography – Shay Brown Events | Bottom right: Amanda Megan Miller Photography – Lola Event Productions

Rustic décor embraces organic elements and oftentimes employs the surrounding space as part of the
decoration itself. To lighten the heavier look of natural wood, iron accents and the great outdoors -
feature worn, white planters overflowing with greenery and naturally hued flowers. The weathered
planters are in keeping with rustic décor, while the abundant florals add gorgeous texture and softness
to any rough edges.
Create a Fairytale
Photo: Kim Thiel | Event Design: Sash & Bow
Every wedding should feel life a fairytale come to life. What better way to capture this sentiment than to
create an atmosphere that would make any guest feel like they've stepped into the pages of the most
fantastic story? The enchanted ambiance encapsulated by blush, white and muted lighting perfectly sets
the stage for a show stopping floral wall. Add a mixture of greenery to break up the monochromatic
white of the flowers to provide the perfectly stunning backdrop to the first chapter of your new life
together.
Go Vintage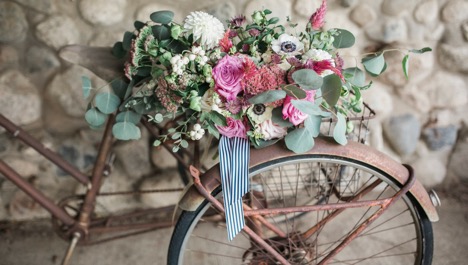 Camarie McBride Photography | Tre Fiori Floral Studio | Briar Rose Winery
Vintage style is expressed primarily through features found within the design. Accents of delicate lace,
carefully curated family heirlooms, sepia toned photos and even larger scale relics, when displayed
correctly, offer the feeling of days gone by. To temper these larger pieces, surround or even top them
with gorgeous bouquets of blooms to add pops of color and a hint of freshness to your antiquated "I
do."
The Romance of the Outdoors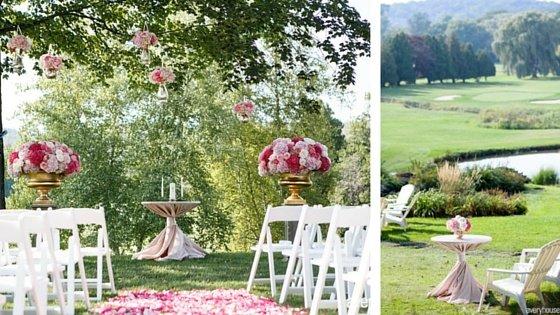 Photo Credit: Avery House
Romance is never far from the heart of any couple ready to tie the knot. Against a perfectly forest green backdrop – various shades of pink, crisp white and metallic gold add warmth and color to an already divine setting while creating a romantic feel without seeming over elaborate. To complement such arrangements, fashion an aisle of flower petals in corresponding hues to set a soft and elegant stage for the bride as she walks towards her future.
White Blooms and Champagne at a Garden Wedding
Garden parties are always magnificent and a garden wedding is certainly no exception. Garden grandeur
provides the perfect framework for extra details to really pop. The addition of a smartly dressed highboy
champagne bar surrounded by airy, white blooms lends the feeling of sophistication to the outdoor
space without taking away from the beauty already provided by nature. It's here your guests will gather,
so be sure to have plenty of champagne on hand to toast your fabulous future!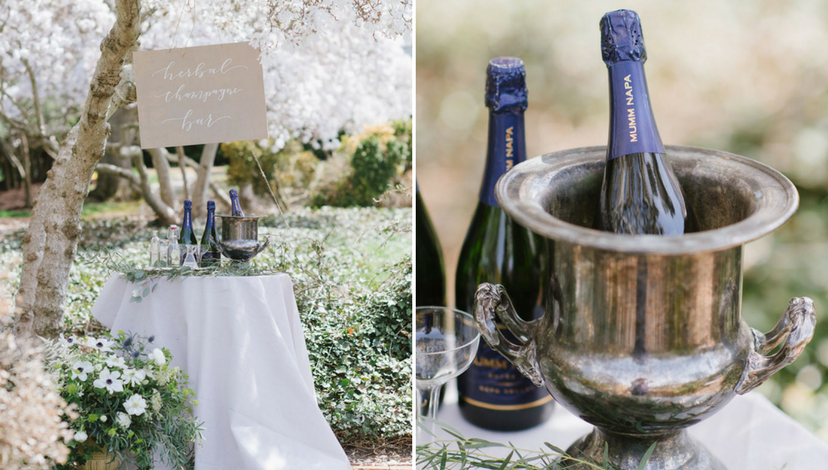 Suspended Florals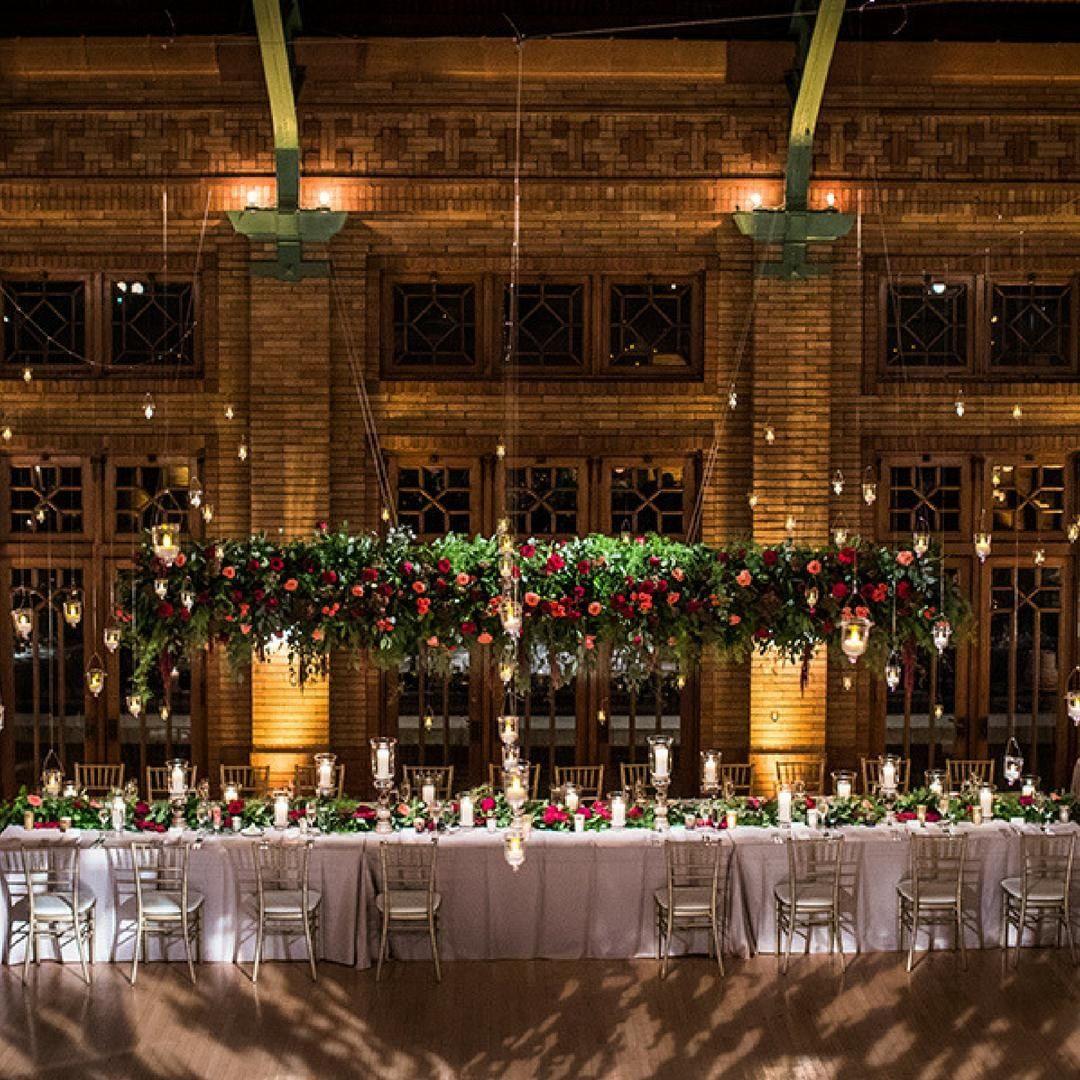 Classic – IG Photo of Lincoln Park Zoo Suspended Florals
Wedding trends may come and go but a wedding with classic décor will always be in style. From
perfectly placed pendant lighting, to draping fabrics adorned with lush greenery and bold pops of
colorful flowers, everything about a classic head table is chic and refined. To design an even more
inviting space against any towering backdrop, suspended florals and greenery can offer a more intimate
feel without taking away from the space of the room itself. A pièce de résistance such as this one will
certainly leave guests talking long after the flame of the last candle has flickered.
Tropical Wedding Decorations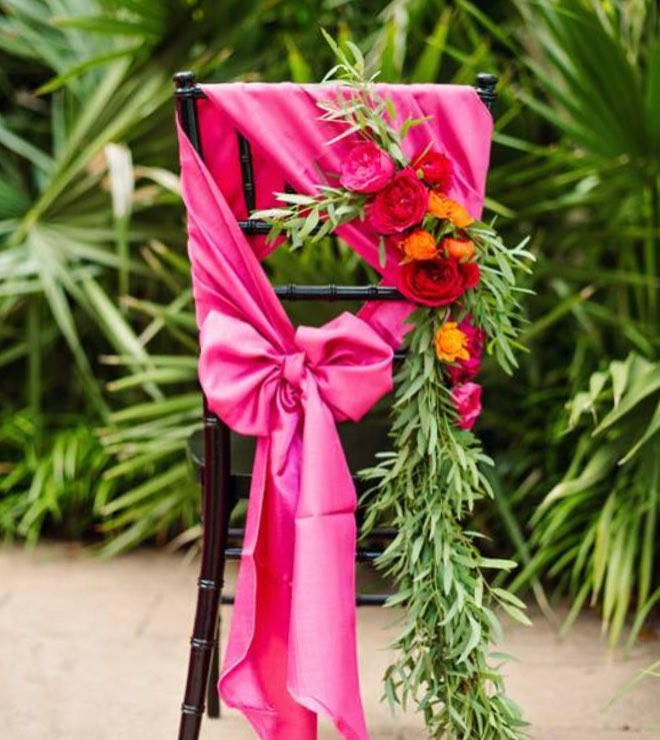 Photography @celinagomezweddings | Design @gritandgoldweddings | Florals @rlovefloral| Rentals @poshcouturerentals - BBJ Instagram
The bold and playful design of a tropical wedding is centered around colorful detail. Layers of bright
oranges, reds and pinks are show stopping choices that pair perfectly with airy linen, abundant florals
and even eye-catching food! Style bamboo chairs with both fabric and flowers to give them extra life.
Add draping greenery to lend a hint of tropical palm as the perfect cool contrast to the warmth of the
flowers, fabric and of course – the fun!
A Minimalist Wedding Style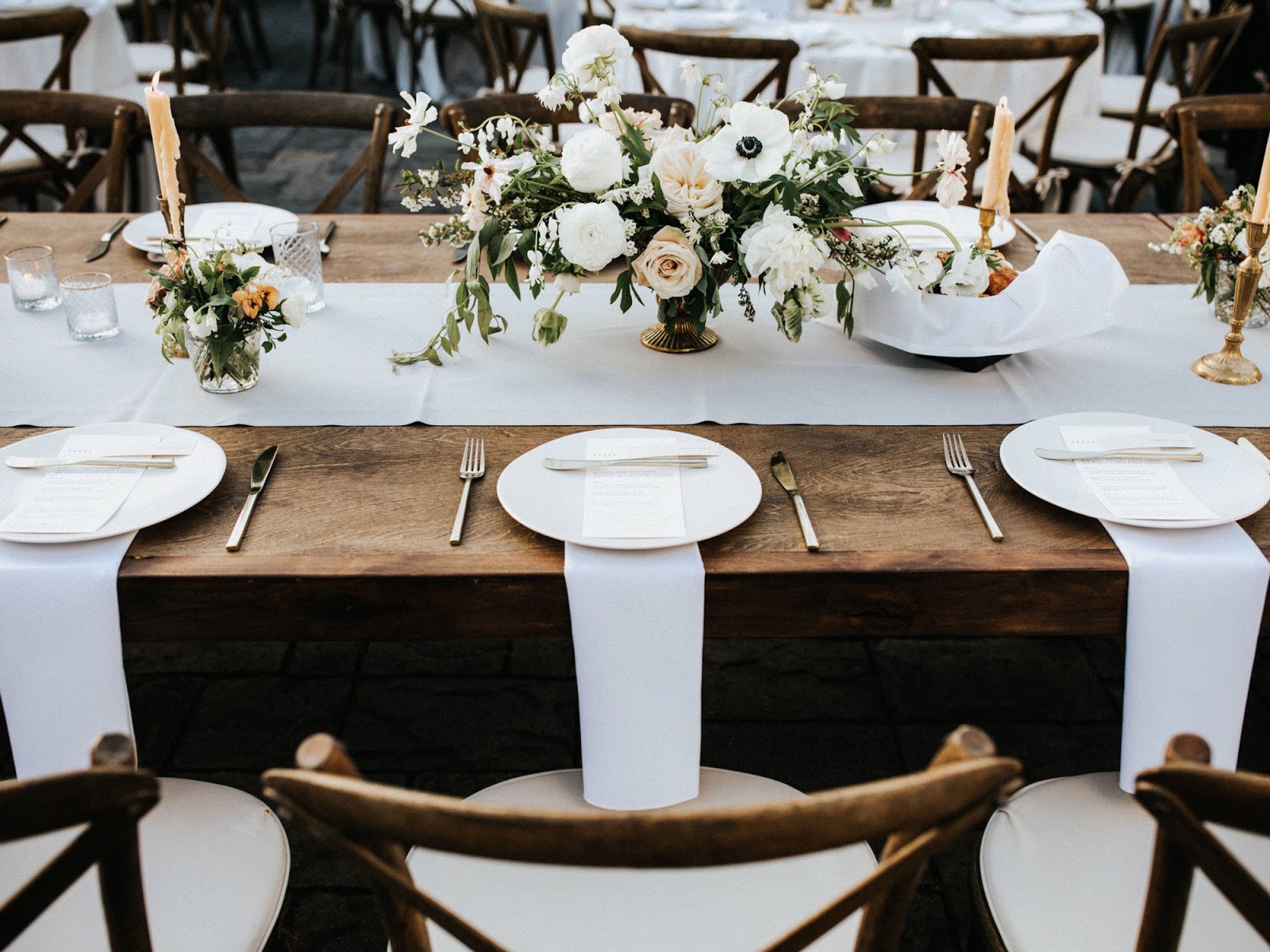 Wiley Putnam Photography | Melanie Benson Floral Design | A. Renee Weddings & Events
Minimalist design, when executed properly, is never understated! The key to perfecting minimalist wedding style is in carefully contemplated accent pieces, according to BBJ Linen. Include two or three small-scale versions of any chosen floral centerpiece on your tables. This small detail will add a polished and cohesive look to your tablescape without taking away from the modern minimalist approach to your marriage celebration.
Silver Dipped Branches
Photography @annkamphotot | Planning & Design @lolaeventpros | Florals @kehoedeisgns|Catering @jewellweddings | Stationary @saradrakedesign - BBJ Instagram
Winter isn't just about the hustle and bustle of the holidays, in fact, it's an entire extraordinary season and an idyllic one for any glamorous white wedding. The seasonal chill and dark providethe perfect backdrop for dazzling décor. Monochromatic is predicted to be a huge floral trend in 2020, so don't hold back! Rather than one dimensional centerpieces, consider towering silver dipped branches to catch the eye immediately. Surround these brilliant beauties with lush, monochromatic bouquets that envelop the branches in a blizzard of clean winter white for the perfect wedding wonderland.
Rose Petals on Tables
BBJ Instagram
Dramatic doesn't need to take a backseat when it comes to wedding décor. Scalloped edge glittering chargers surrounded by accents of etched crystal glassware and various styles of shimmering candles capture a dramatic feel without seeming dark. The perfect pop of color for any dramatically styled table are crimson rose petals. Paired with a dark runner and thought provoking accent pieces, rose petals add texture and vibrance to pull together this dramatic look.
Gorgeous centerpieces aren't the only way to use floral accents on your wedding day. From elaborate suspended greenery to softly scattered rose petals, flowers will always be a welcome and breathtaking addition to wedding décor. Use any of these decoration concepts or even a combination of several and you will be sure to have a floral flawless wedding day!
Posted by Megan Beth | Guest Writer on 24th Dec 2019