How to Plan the Perfect Backyard Wedding
If you're in the midst of wedding planning, you understand better than anyone that you can get married just about anywhere. From beaches to city rooftops, venues are not hard to come by. What is difficult, is deciding on a spot that feels notable enough for you as a couple to host this milestone of marriage. If you've decided to return to a special home to hold your wedding day in the backyard, we're here to help you make sure every part of your outdoor wedding is perfect.
Find the Perfect Spot
If you've decided on a backyard wedding, you may have picked a particular location because the house or property means a lot to you. This may be your parents' home that you grew up in, a grandparent's home, or a vacation home. On the other hand, your home wedding could just be a more intimate celebration that is cost-effective and less stressful to plan. With no venue rental fees or pre-selected vendors, a backyard wedding budget is typically up to you, but staying frugal and deciding where to save vs. splurge can mean you're using your money for other future expenses.
You may even want to buy a house with your future spouse before getting married, in which case your wedding could be one of the greatest housewarming parties of all time. Whether this is the case, or you want to look into home buying after the wedding, you'll need to assess how much mortgage you can afford and look into saving up for a down payment. It's important to have discussions early on with your significant other about future plans and save accordingly for major expenses like children, moving costs, emergency funds, and more. Comparing wedding expenses with other plans can help you create a realistic budget before the planning process begins.
expenses with other plans can help you create a realistic budget before the planning process begins.
Rafael Alves / Unsplash
Map Out Each Setup
Once you've decided on your budget and vision, you can determine what you want the setup of your event to look like. Scope out the property ahead of time and see where the flattest part of the land is, so you can set up there. You may be able to consult with the local vendor you're renting tables and chairs from to see if the square footage you're working with will comfortably accommodate your guest list.
Since the ceremony and, potentially, the reception will be held outside, you'll need to prepare for inclement weather in some shape or form. It may be worth it to rent a tent even if there's no rain forecasted, as it can provide shade for hot days or be a designated space for the reception, housing a dance floor, tables for a buffet or bar, and the wedding cake. Some other outdoor wedding details to factor in whilst planning is parking space, permits, catering setup, and the flow of the event. Taking into consideration the time when the guests will be milling around (commonly known as cocktail hour) and planning activities to keep people occupied will make for a memorable day.
Consider Where You Say Your Vows
Getting a vision of your wedding ahead of time and planning out decor details in addition to the color scheme and overall theme can be essential to creating a cohesive event. Once this is established, take into consideration the setting and background of the ceremony within the backyard to fully bring your vision to fruition. If there's a beautiful view of a lake or beach, you can keep it simple or add a minimal but elegant archway. If it's a woodsy area, consider finding a blooming tree to stand under or picking a forest pathway for a more natural look that encompasses a lot of greenery. In addition to the traditional rounded arches that you can embellish with lush vines, an array of flowers, or draped voile fabric, you can also consider more modern arches in the shape of a rectangle or triangle.
Include Natural Decor
One of the upsides to having your wedding in someone's backyard is that you might have a say in what the landscaping of the home looks like. Working with the natural decor of the property is a great way to add sustainable elements to your wedding day. Instead of utilizing cut flowers in your decor, planting colorful flowers or incorporating existing natural elements into a ceremony can offer a beautiful photo op and help you save on some expenses. You may be able to take a stroll around the property for photos or even go to a local spot in town if it's close enough. Having some landscaping done on the yard ahead of time can work wonders for the overall feel of the ceremony.
Kier in Sight / Unsplash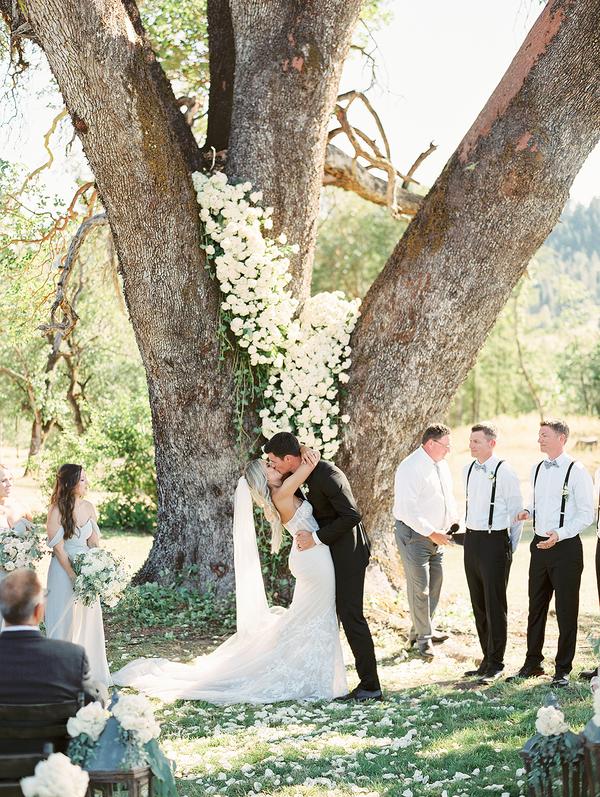 The Perfect Occasion | Alysia & Austin's Wedding
Add in Personal Touches
Another great aspect of backyard weddings is that there is no limit to how much crafting and DIYs you can do for decor. Some venues have rules about their centerpieces or outside decor that is brought in, but with your own space, you'll have no problem cutting costs by creating some of your own signs and decorations. Many brides like to use a Cricut nowadays or handwritten table numbers, welcome signs, or personalized gifts for their bridal parties. An inventive way to stay sustainable is to use scrap wood or thrift mirrors or frames for signs. Checking Facebook marketplace for couples selling their wedding supplies can also be a smart way to save money and reuse where you can. Another way to make sure you're not leaving waste in the world is to use dried flower petals to line the aisle before the ceremony or have the flower girl do the honor of tossing them. They can also be a beautiful send-off to replace confetti when you're exiting the ceremony!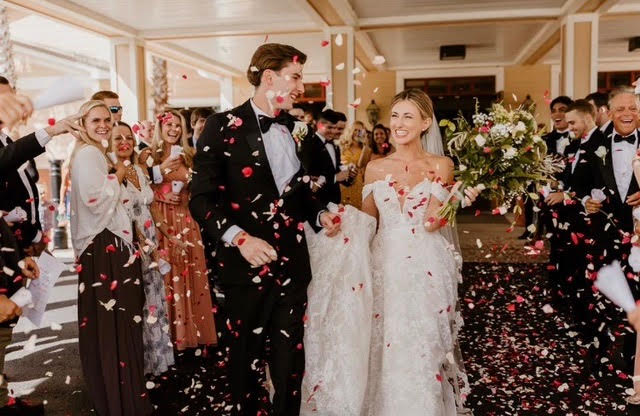 Making conscientious efforts to incorporate sustainable practices into your wedding will help ensure that you leave less of a footprint on the world around you. Our eco-friendly and biodegradable flower petals are grown and harvested at our family farm in South Western Oregon and can be a beautiful addition to any event. We take pride in what we do as a 3rd generation family-owned & operated farm and hope our fragrant petals will add some magic to your wedding day. Check out what we offer here.
Posted by Flyboy Naturals on 27th Jun 2022