DIY: Metallic Rose Petals + Golden Pineapple Centerpiece
In last week's blog we explored the ever growing and super fun fruit-motif trend. If you missed it you may want to start there: Have Weddings Gone Bananas? Watermelons? And Pineapples? The fruit motifs are definitely 'a thing' right now but as we put together last week's blog it became clear that metallic's are also trending! In fact the two, fruit and metallic's, are quite often paired together. Just scroll through last week's blog and you'll find Gold Bananas, Gold Pineapples, Gold table decor and the list goes on. Golden fruit appears to be a particularly powerful combination. Let us show you just how easy and budget-friendly this trend is to DIY for your wedding or special event!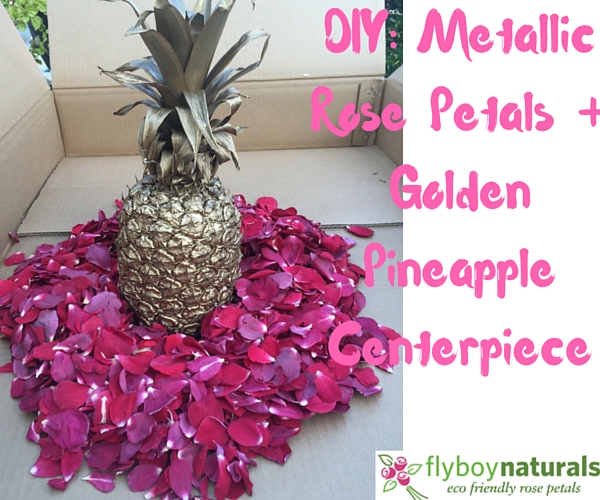 To get started you will need just a few materials:
●Floral Spray Paint
●Flyboy Naturals Freeze Dried Petals
●Pineapples
●A large cardboard box - preferably with shallow sides for easier spraying angles, but just about any large box can be cut down on the sides to work for this.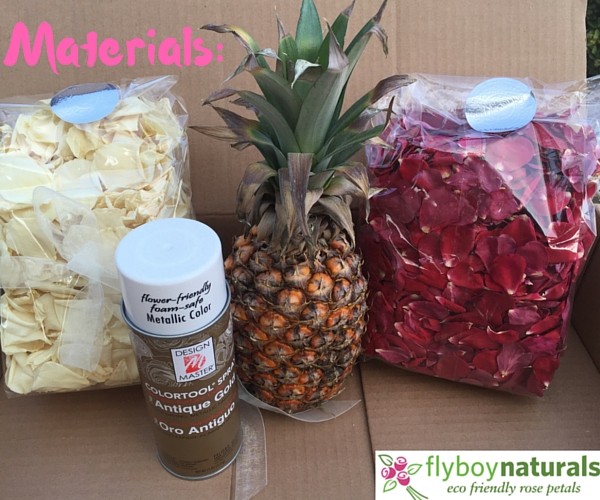 Floral Spray Paint
The floral spray paint is a very important part of this project and deserves some further discussion. Floral spray paints are designed to be lighter than traditional spray paints. They produce a very fine mist that gives you better control over the color and amount of coverage. This fine mist provides a soft layer of color or it can be layered in two to three coats for complete coverage. These sprays dry quickly and are delicate enough for use on flowers (fresh, freeze-dried or even silk), yet they are strongly pigmented and work well on other wedding details like tulle, ribbons, lightweight fabrics and even wood. In this blog we are using Design Master ColorTool Metals in Antique Gold 746 purchased from a local crafts store (try Michael's, JoAnn Fabric and Craft, or use their store locator to find a location close to you).
Flyboy Naturals Freeze Dried Petals
You can add floral spray to just about any color petal and have over 100 colors for you to choose from! In this blog we are showcasing two of our most popular petal colors: Bridal White Freeze Dried Rose Petals and Bridal Red Freeze Dried Rose Petals. Each centerpiece required about 4-5 cups of our petals.
Pineapples
You can pick up pineapples at just about any grocery store, their peak season is generally April and May, but they're available year round in most places. One tip -- ask your grocer if they have any spoiling pineapples to spare. The pineapple featured in these photos was given to me because the lower leaves had started to show signs of age. The curling of the lower leaves actually gave the pineapple some added dimension and the fruit itself was still sturdy enough to apply the floral spray paint to. I've had the "spoiled" pineapple sitting on my table in all it's golden glory for over a week and it's holding up beautifully and giving off a lovely pineapple fragrance. If you're planning a fall or winter wedding you may want to double check the availability of pineapples in your area before settling on this idea.
How to DIY Metallic Petals + Golden Pineapples
Lay out the petals in a single layer in the large, shallow-sided cardboard box, shake your floral spray well, and spray to desired coverage. Allow the petals to air dry in a single layer and repeat these steps with the pineapples. Once all items are dry combine and style your centerpieces! It really is that easy!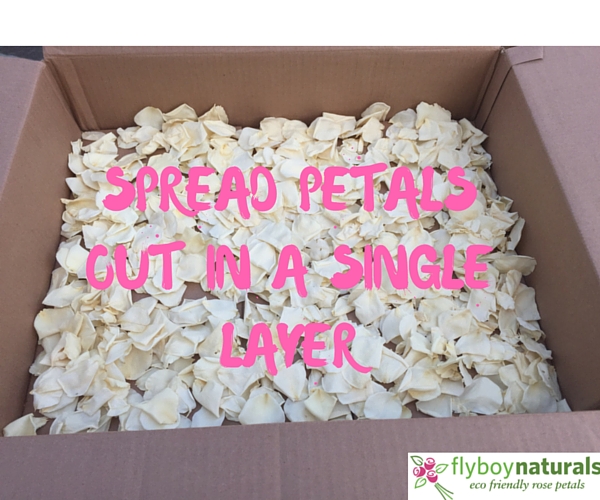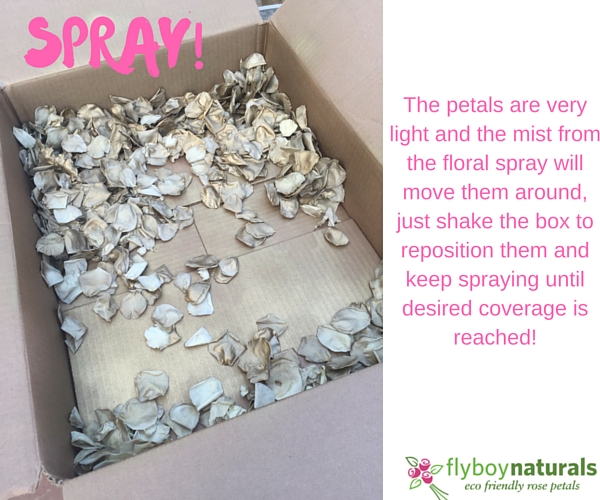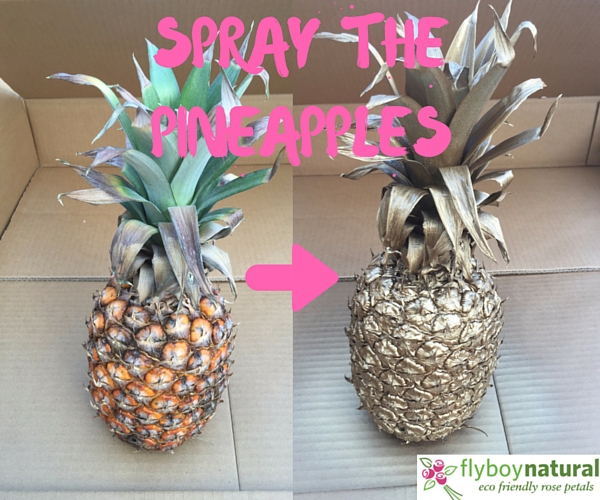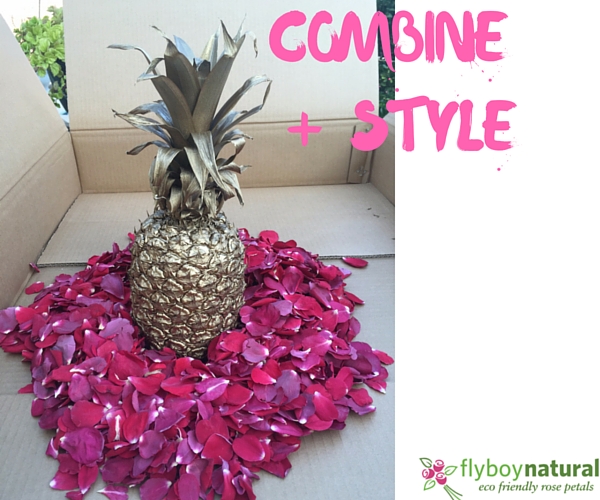 Experiment With Different Layers of Coverage
You can see how we've applied various depths of coverage from a light mist to full coverage: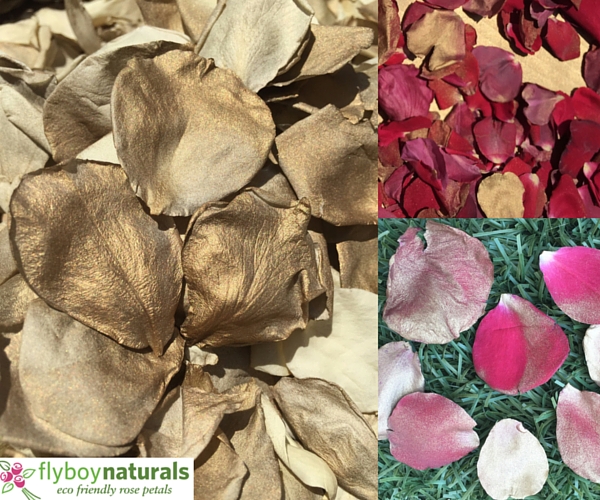 We also sprayed a few fresh roses to give you an idea of other ways you can continue the metallic touch throughout the wedding:
What do you think of our final centerpieces?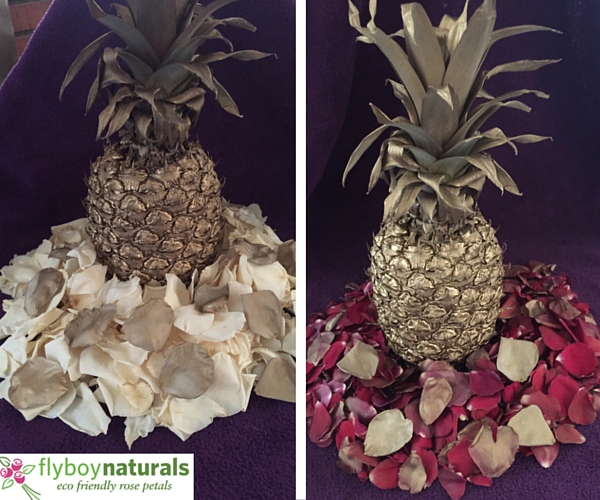 On a Budget?
If you're a bride or special event planner on a budget you will pleased to know that this DIY was budget friendly! As we mentioned above we were able to salvage spoiled pineapples so those cost us nothing, but here's the budget breakdown on the rest of the centerpiece with some money saving tips:
●Floral Spray Paint

Budget Tip: Michael's and JoAnn Fabrics regularly provide 40% off coupons. I downloaded the Michael's App on my cell phone while I was in the store shopping and was able to pick this up for 40% off, bringing the cost down to $4.49 + tax. It's hard to estimate how many bottles you would need and it ultimately depends on your final centerpiece design. For our designs I am estimating one bottle would spray 5-6 pineapples and plenty of rose petals.
●Flyboy Naturals Freeze Dried Petals in Bridal Red & Bridal White

Budget Tip: You can save money by ordering larger quantities at a time so it pays to figure out how many tables you need to decorate and do the math ahead of time. For this centerpiece we used 4-5 cups per table. If you have 80 tables to decorate you need 320 - 400 cups total. If you need to save money here you can also opt for lighter coverage and use 2-3 cups per table. In addition, browse our imperfect "Brides on a Budget" petals for discounted options!
●Estimated cost per centerpiece as shown: $7.55 + tax
We predicted metallics would be a wedding trend back in January of this year in our 2016 Wedding Trends Blog, and it's definitely a trend gathering momentum that is easy to incorporate throughout your wedding!
What do you think? Ready to spray paint your own wedding centerpieces? Any questions about recreating our DIY Golden Pineapple Centerpiece or Metallic Freeze-Dried Rose Petals? Let us know in the comments below!
Posted by Faryn Kapala | Flyboy Naturals on 11th Jul 2016