How to Make Flower Arrangements for Your Home
Blog
show / hide sidebar
How to Make Flower Arrangements for Your Home
How to Make Flower Arrangements for Your Home
September 14, 2021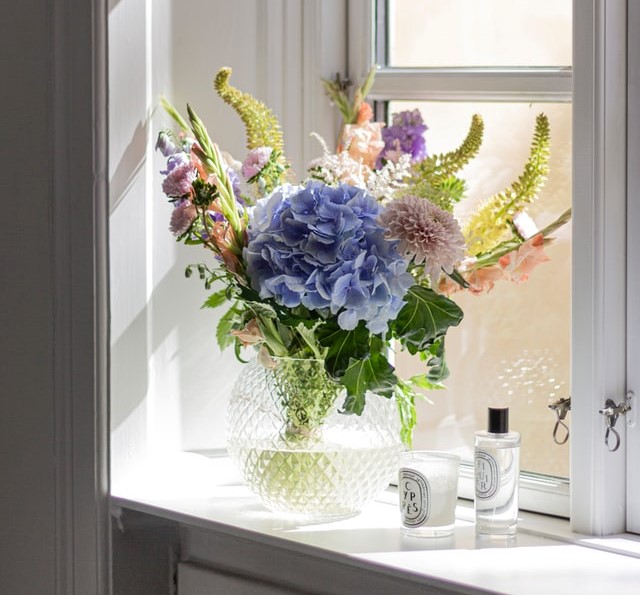 Flowers are some of nature's most beautiful mysteries. When it comes to enjoying flower arrangements in your home, many amazing benefits will help to enhance your life. First, flower arrangements have many physiological benefits that can improve your physical and mental health. Not only are they a wonderful way to express love for your family and guests, but they're also a great way to express love to yourself too.
Flowers can clean and filter the air and brighten up a room with their range of brilliant colors. You can also use a custom flower arrangement to compliment your home's interior design and bring a touch of nature indoors. Being around nature can reduce stress, so enjoying some flowers at home can help you relax and feel happier throughout the day. As experts say, flowers can induce creative energy and positive vibes, ultimately making us feel better.
Types of flowers
Before you start your flower arrangement, let's talk a little bit more about flowers. The variety of flower species are endless, and each has its own unique characteristics and meaning. Here are some examples of different types of flowers to help you start choosing your flowers and designing your own flower arrangements.
Focal flowers
The focal flowers in your arrangement are the main attraction and the centerpiece of the design. Here are some examples of focal flowers and specific options you can choose.
Seasonal flowers: Choose seasonal flowers that are fresh and in bloom. Poinsettias are a beautiful choice for the winter and Christmas holidays, while peonies, daisies, or tulips look elegant during springtime. Choosing what's in season adds a festive look to your flower arrangement.
Annual flowers: Adding annual flowers gives your arrangement a beautiful touch. These flowers seed, bloom, and die all in one season, so picking them as soon as they bloom is important. Some examples of annual flowers include marigolds, petunias, and a wide range of wildflowers.
Fragrant flowers: Known for their luscious fragrance, these flowers add a pleasant scent to your arrangement and your home. Some of the most fragrant flowers include magnolias, roses, gardenia, and freesia.
Secondary flowers
Your secondary flowers will add subtle pops of color and fill in any "gaps" in your flower arrangement. These flowers tend to be smaller in size, and you can use everything from cut branches to a variety of greenery or baby's breath.
Filler flowers and greenery: A popular choice for greenery is a beautiful stem with eucalyptus leaves. Soft pampas grass is another excellent filler that adds a touch of subtle color and wispy texture to your arrangement. Other great filler flowers and greenery options include evergreen branches, posies, ferns, and smaller roses. Mix and match your secondary flowers to create a nice contrast, like choosing darker greens with bright-colored focal flowers.
Elements of design
Aside from choosing the right type of cut flowers, there are some important elements of design to remember when you make your floral arrangement.
Use the psychology of color: Different colors and color groups have various meanings that can affect your mood and help you express yourself through the flower arrangements. Warm colors like red, orange and yellow symbolize feelings of love, passion, and affection. Bright orange and yellow flowers exude feelings of joy and warmth. Cool colors, such as blue and green, offer a lively look that exhibits a fresh, lush aesthetic. Blue flowers are an excellent choice to create a calming vibe for a peaceful, harmonious space. Purple is another perfect cool color that offers a royal and majestic touch to your arrangement. Mix and match different colors, such as a beautiful yellow daisy with a green mum and blue hydrangeas, to create a rainbow of luscious colors.
Contrast and balance: Just like interior design, it's essential that your flower arrangement has the right amount of contrast and visual balance. Make sure that your focal flowers are in similar sizes so that one type doesn't overtake the other. Give the arrangement proper balance by adding fresh greenery or filler flowers to give it a good mixture of bold and soft colors.
How to arrange cut flowers for your home?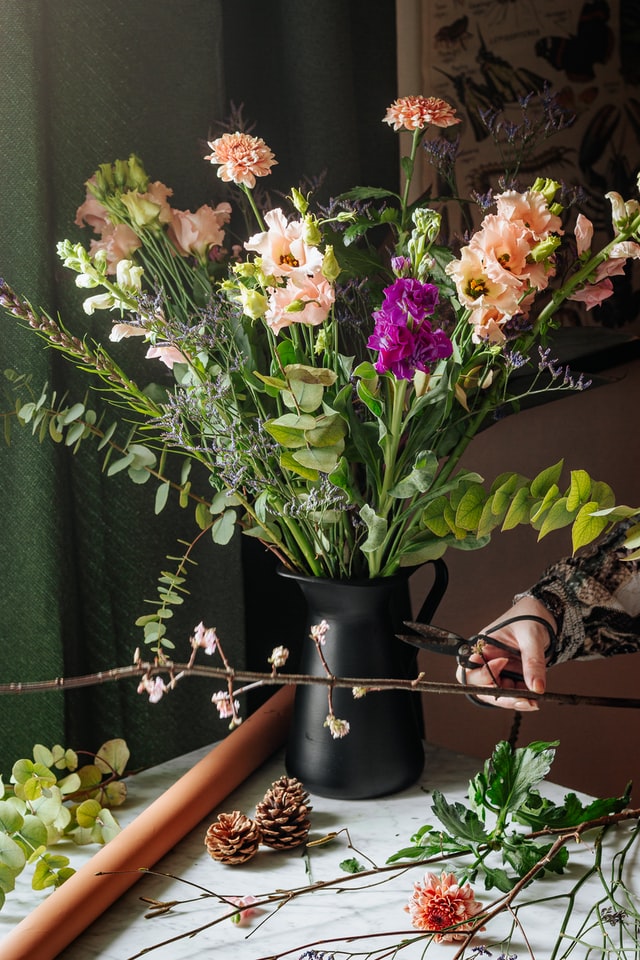 Your flower arrangement design will depend on your unique personality, your home décor, and your favorites. You don't have to be a professional to create a stunning arrangement. Here is a step-by-step process to help you create your new design.
1. Prepare your materials
You'll need to start by making sure that you have all of the right materials for your floral arrangement, including:
Garden pruners: A quality pair of sharp garden pruners or scissors will make it easier to cut the stems of your flowers. They'll also last longer when you have the proper tools to cut them at the right angle. Cleaning your tools will help you cut your flowers properly since they will stay sharp.
Vase: All flower arrangements need a beautiful vase. Keep in mind that the larger the container, the more plants, and flowers will be required. Look for neutral vases in colors like tan, brown, gray, or green that will easily harmonize with most plants and backgrounds. White is a bold, stark choice that may bring too much attention to the vase and not the arrangement. Choose colored vases with caution, making sure that they don't detract from your flowers.
Water: Of course, all plant life needs water to thrive and grow, so don't forget to fill your vase with clean water when you're done making your arrangement!
Flowers of choice: From seasonal to fragrant flowers, include your favorite focal, secondary flowers, greenery, and filler flowers for your final arrangement. You can find beautiful flowers in season with a visit to your local flower market, nursery, or farmer's market.
2. Prepare the flowers
Now that you have all of the necessary materials to create beautiful flower arrangements, it's time to prep your flowers before you create your design.
Start by taking off all protective plastic and rubber bands, then unpack the flowers. Then you move on to removing dead or excess leaves and gently cut off any thorns your flowers may have.
3. Select a vase and start designing
Here are some tips to help you create a beautiful flower arrangement design:
Measurements: Please measure the length of your flower stems against the vase to help you determine where they need to be cut.
Cutting the stem: Cut the flowers diagonally a few inches from the bottom to encourage the flowers to drink more water, which will help them stay alive longer.
Selecting Vase: Choose a vase that best fits your decoration scheme. Then fill your vase with water, but only half full. Use the fill line to gauge how much water your flowers are drinking and when it's time for a refill.
Arrangement: Add your focal flowers to the vase first, and make sure to spread them evenly throughout. Next, you add your secondary flowers, filler flowers, and greenery to help fill in the empty spaces and add a contrasting color or two.
How to take care of my cut flowers
If you want your beautiful floral arrangement to last longer, taking proper care of your cut flowers is key.
Start with a clean vase and make sure that there is no residue or mold inside. A clean vase will ensure that your flowers also have clean water to drink.
Make sure the water temperature is at room temperature or slightly cooler. If the water is too warm, it can encourage mold and bacteria to grow.
Change the water every two to three days. Freshwater will prevent bacterial growth and provide your flowers with a clean source of water to drink to keep them healthy and thriving.
When cutting the stems, trim at least ½ inch from the bottom before putting them in a vase, then do the same thing every time you change the water.
Add some food for flowers to your vase to keep them fresh. This is especially important if you forget to change the water every few days. Many bouquets come with flower food packets, but you can also make your own flower food using the recipe below. Look for a flower food containing nutrients and a bactericide to help the water stay fresh and the flowers last longer.
Don'ts about fresh flower care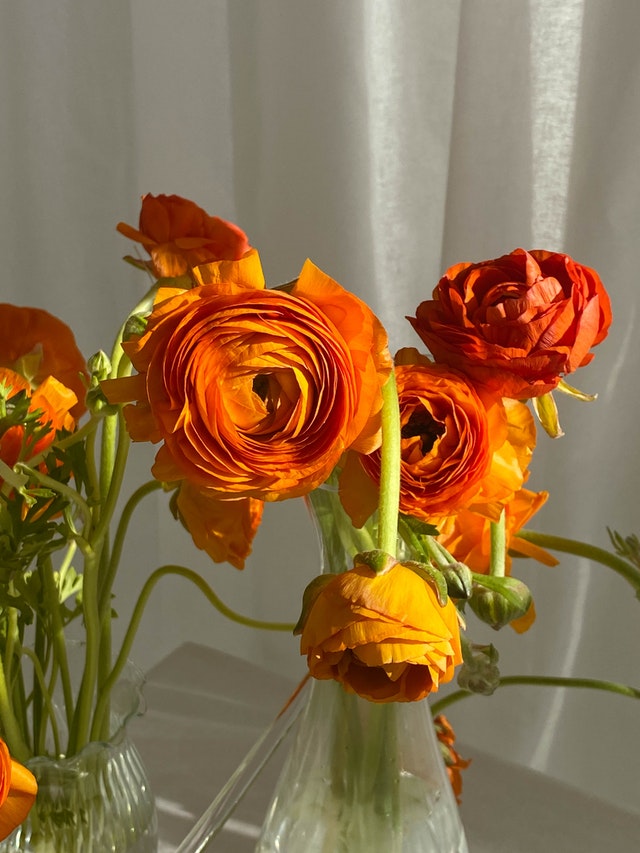 Of course, there are some things you should not do when caring for your fresh flowers, including:
Keeping your flowers near bright light or in hot temperatures can cause the flowers to dry out faster or encourage them to mature too quickly, which will ultimately lead them to wilt.
Don't neglect to change the water every two to three days. Dirty water can suffocate your flowers or cause harmful bacteria to grow.
Never place your cut flowers near ripening fruit, especially bananas and apples. The fruit emits an odorless, invisible gas called ethylene that can be deadly to flowers and causes them to drop their petals.
Don't forget to wash your vase with clean, soapy water every time you add new flowers. Washing will kill any lingering bacteria and provide a safe, clean environment for your unique arrangement to thrive.
A home recipe to feed your flowers
Try this easy home recipe to make your own flower food.
Gather one quart of clean, room-temperature water, one teaspoon of sugar, two teaspoons of lemon juice, and one teaspoon of bleach.
Mix all of the ingredients listed into your water, ensuring that everything is blended and dissolved thoroughly.
Always remember to add bleach to the water and not water to the bleach.
If you don't have any lemon juice, the recipe still works fine without it.
It's important to note that some flowers do not like flower food, including zinnias, sunflowers, and gladiolas.
Activities for kids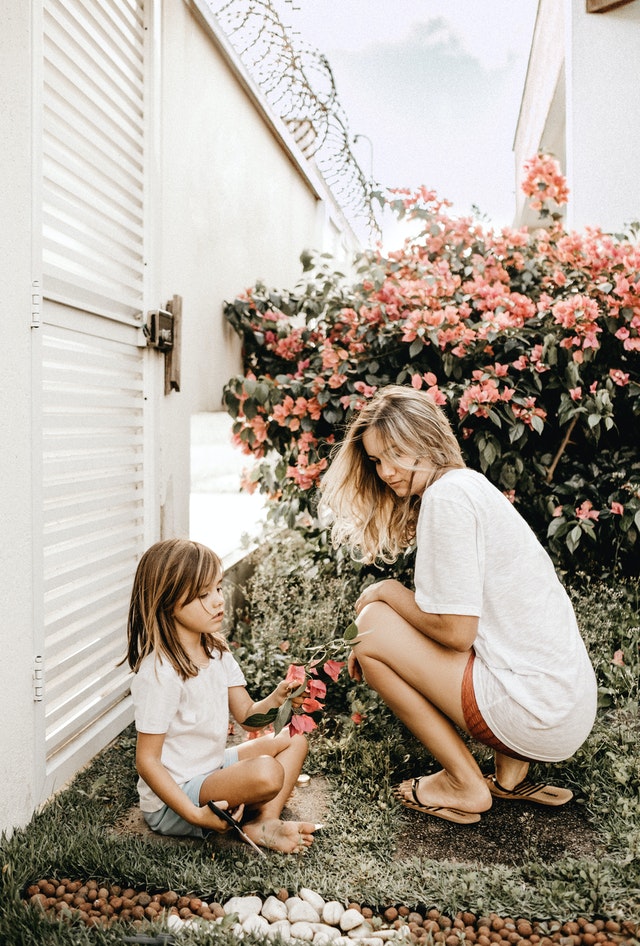 Do you have kids? Making fun flower arrangements is a fantastic activity the whole family can share. Go outside and have the kids pick out their favorite flowers or take a trip to your local flower market. You can spend some time talking about the symbolism of flowers, their favorite colors, and why they chose them. It's a great way to spend quality time together while working on something that will beautify your home. You can also do some other fun flower arts and crafts too.
As you can see, there are many attractive benefits to making your own flower arrangements at home. From picking out your favorite focal flowers to adding fillers and greenery, it's an easy process that will add color, beauty, and a wonderful fragrance to any room. Use these tips to help create stunning flower arrangements and remember to practice these flower care tips so that you can enjoy your beautiful new arrangements for a long time to come.
Authors Note:
I want to thank my teammate Paula Hernandez for the help with the research and for helping me co-write this article
More: