Frozen Flowers and DIY Frozen Flower Bowls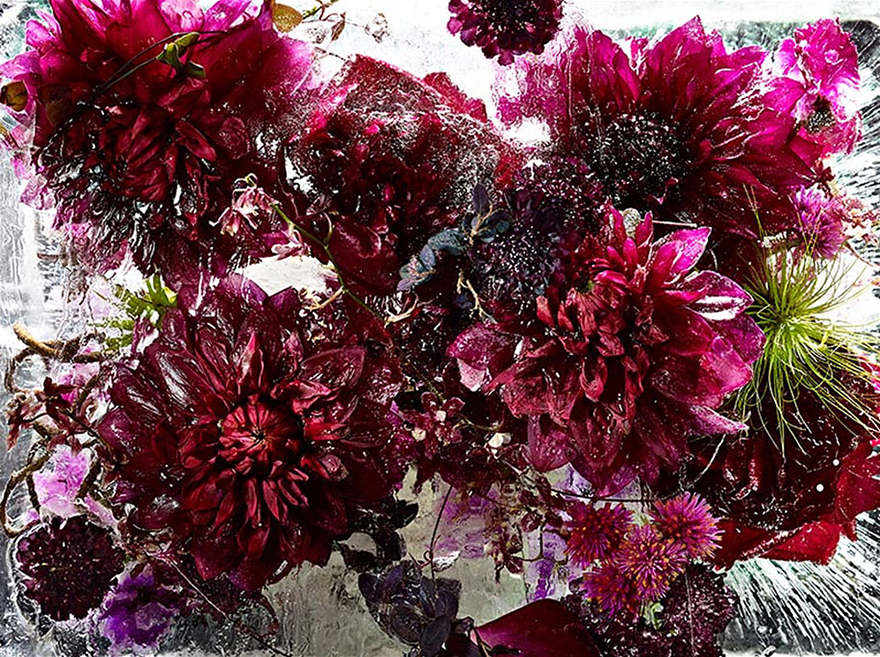 Source: Bored Panda
While winter is considered the most monochrome season, the coldest months of the year offer something with fairy tale elegance and storybook splendor: ice. Whether it's in timeless ballets like the Nutcracker or modern animation like Frozen, ice creates a pristine ambience. Weddings are no exception to this rule. And, of course, snow and icicles are nothing new in event decor. One needn't look far for photography from hundreds of stunning winter ceremonies during ornate flurries of snow and receptions in rustic mountain lodges.
However, artist and flower designer Azuma Makoto is taking wintertime beauty to the next level with these extraordinary frozen flower arrangements.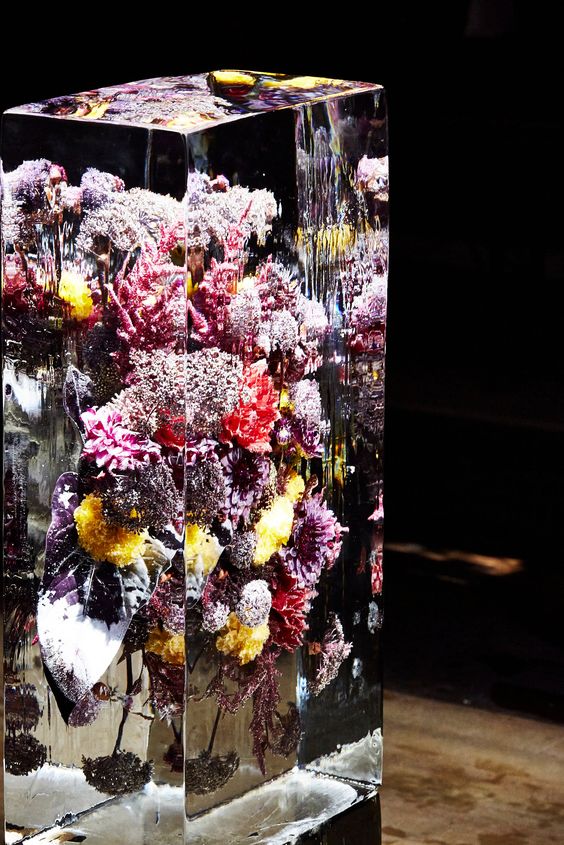 Source: New York Times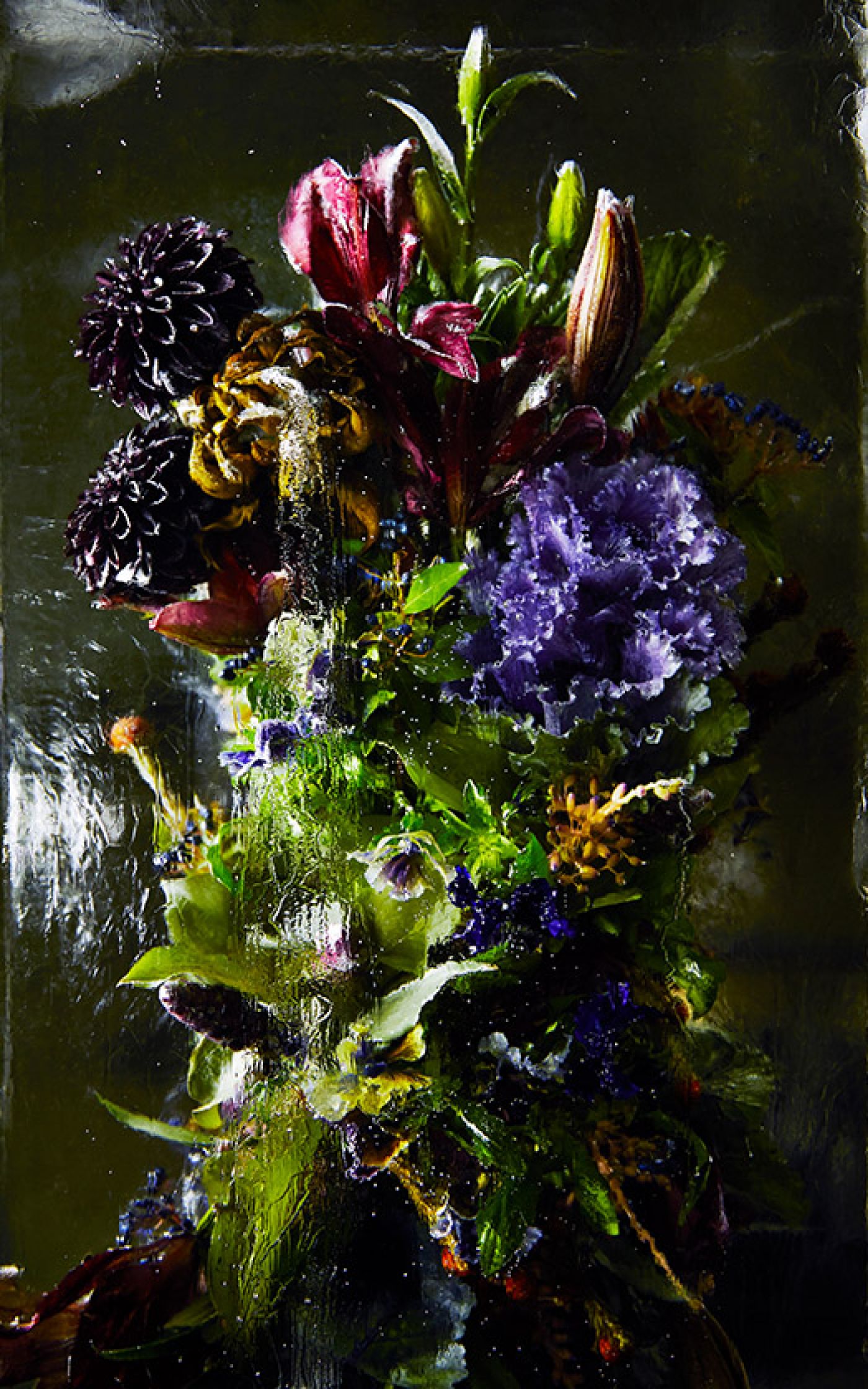 Source: The Green Gallery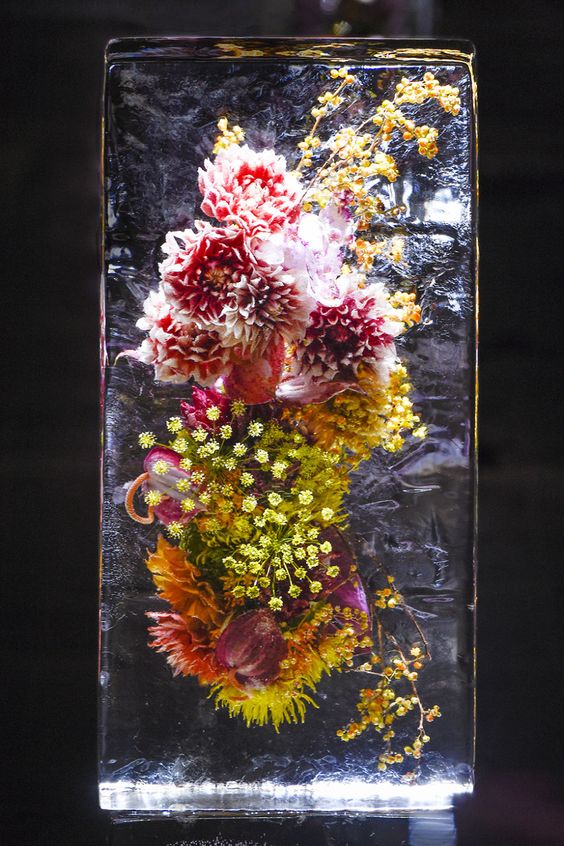 Source: Harpers Bazaar
Azuma Makoto is a Japanese floral expert, who specializes in experimental modern arrangements, makes his living by translating his vision of the utmost "inner beauty" of flowers into art for the rest of the world. It's hard to tell whether his pieces should be considered contemporary arrangements or perishable art.
Makoto himself prefers them dubbed "botanical sculptures." These stunning frozen flower blocks are his most recent accomplishment. They debuted at the Paris Fashion Week in 2016 on designer Dries van Noten's runway, where audiences swooned at their majestic integration of flowers and color with ice. The blocks were popularized, and Makoto released another series for the 2017 Dries van Noten runway.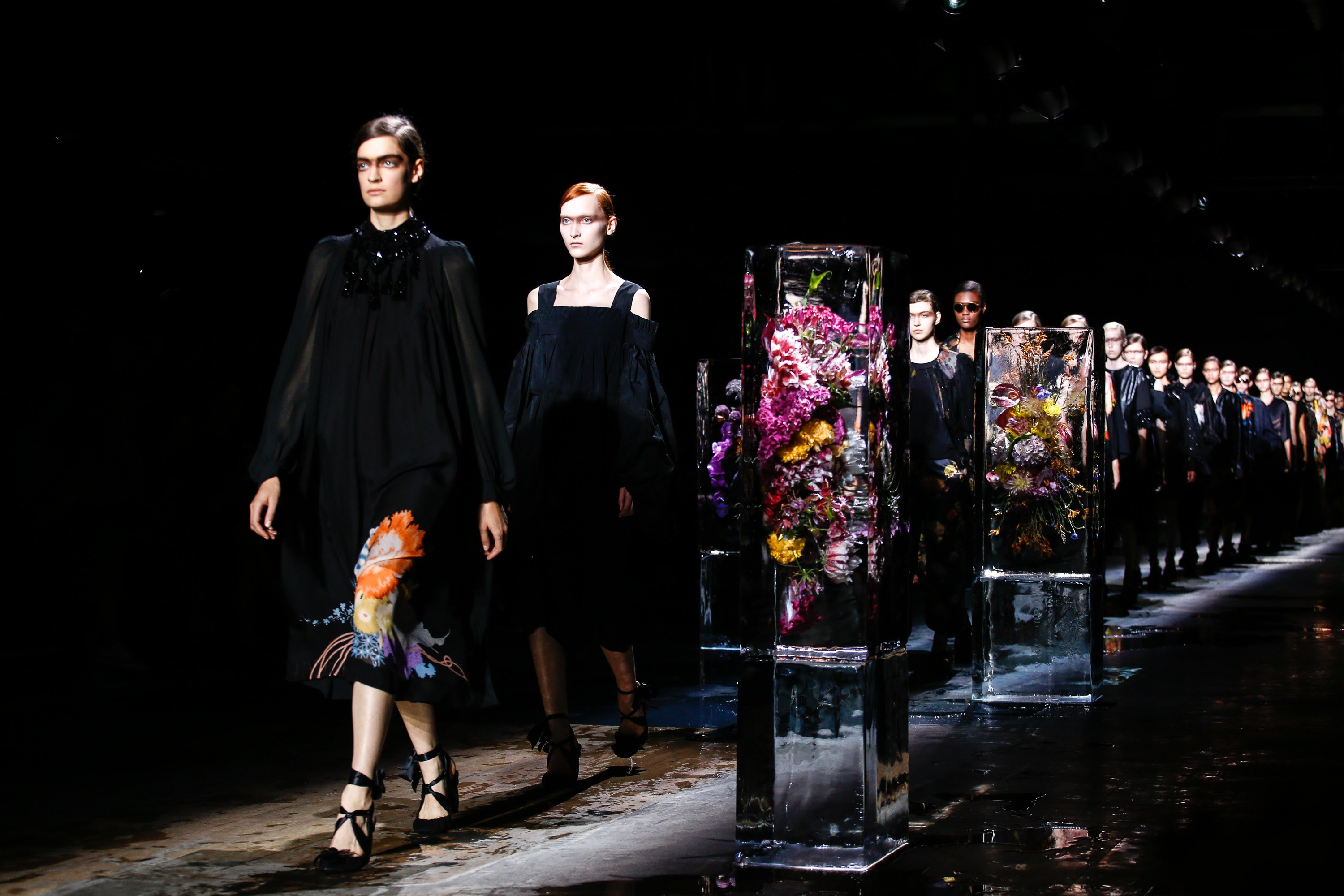 Source: Vogue
But Makoto is by no means only appreciated in the fashion community. Again, Makoto is considered an artist. He tries to use flowers to create pieces of art with levity and beauty. When asked why he was so passionate about flowers, he commented, "...flowers go through, in the limited time available to them, many changes and fulfill the purpose of their short life without a single word. It is that beauty that touches people's hearts."
These massive blocks are not his only work with ice, though. This collection used jars filled with petals from flowers like roses, hydrangeas, and peonies to create dreamy, soft jars filled to the brim with blooms.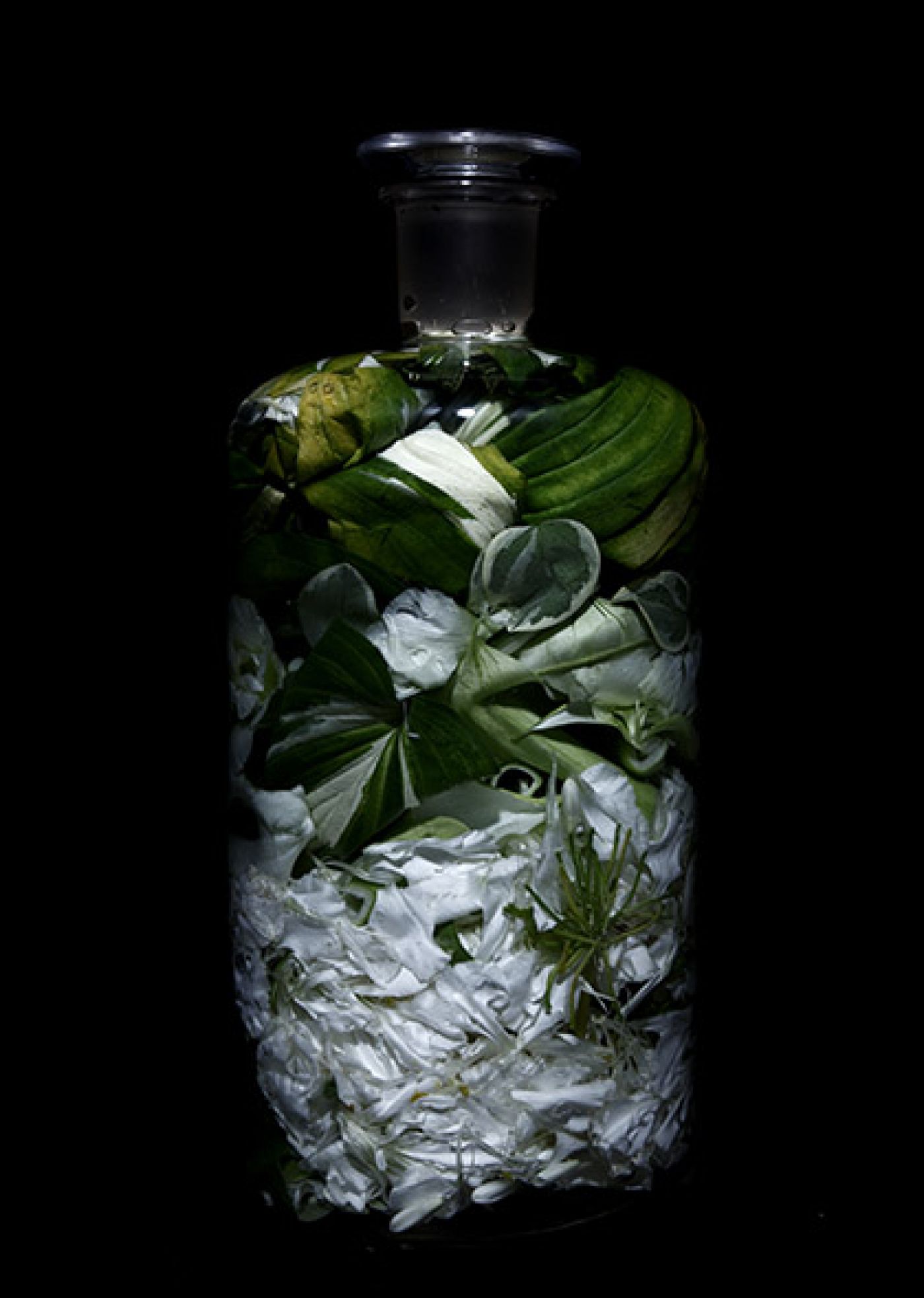 Source: The Green Gallery
But while these pieces are stellar and beautiful to admire, they serve better as inspiration than proper DIY wedding material. In reality, arrangements in ice blocks would be incredibly painstaking and difficult to pull off correctly. That pristine, flawless ice looks immaculate because it has absolutely no air bubbles inside of it. Freezing arrangements like this requires meticulous attention-to-detail and practiced hands. It's something few people other than Azuma Makoto himself will be able to pull off.
That being said, there's nothing stopping you from doing something inspired by Makoto's work and creating something a touch simpler, but equally unique for your wedding. For example, take the following ice blocks with one type of bloom in them: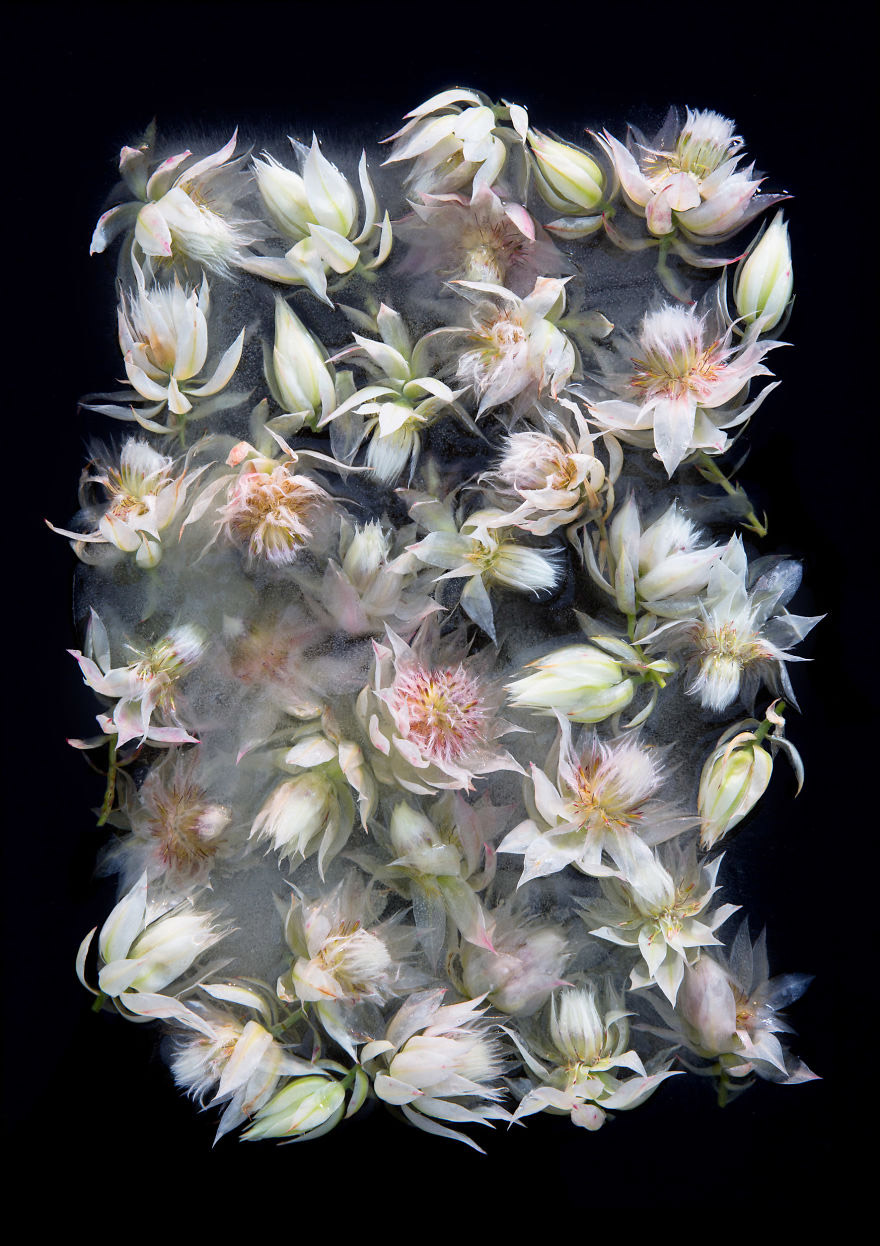 Source: Booooooom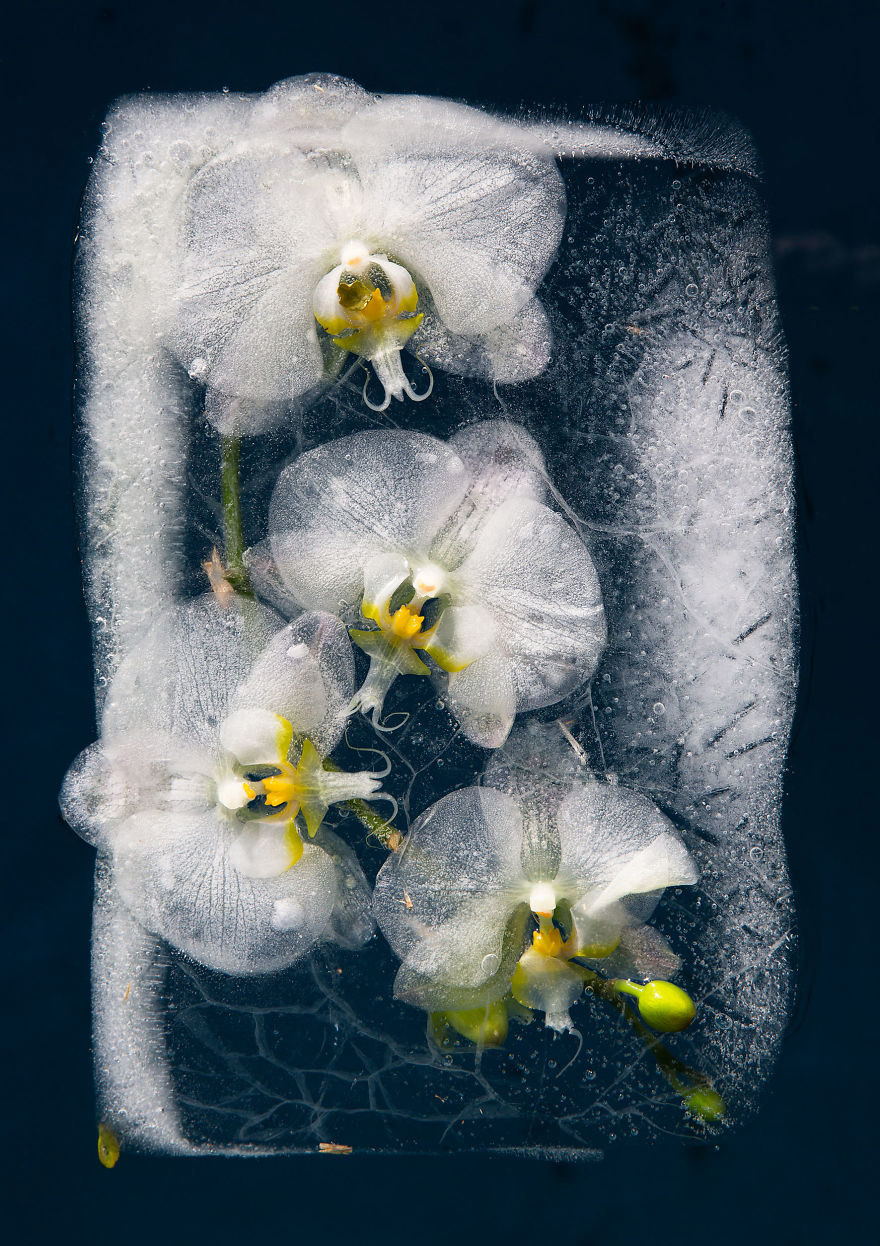 Source: Booooooom
The flawed ice is full of air bubbles, giving it an opaque, white tone. It's less crystalline, and more like the frost that creeps up windows and freezes over leafless tree limbs. However, this gives it an entirely new type of beauty. It's still elegant and beautiful, but it also has an organic look to it. In a way, it just as dramatic as Makoto's botanical sculptures.
Take a look at these frozen roses for proof: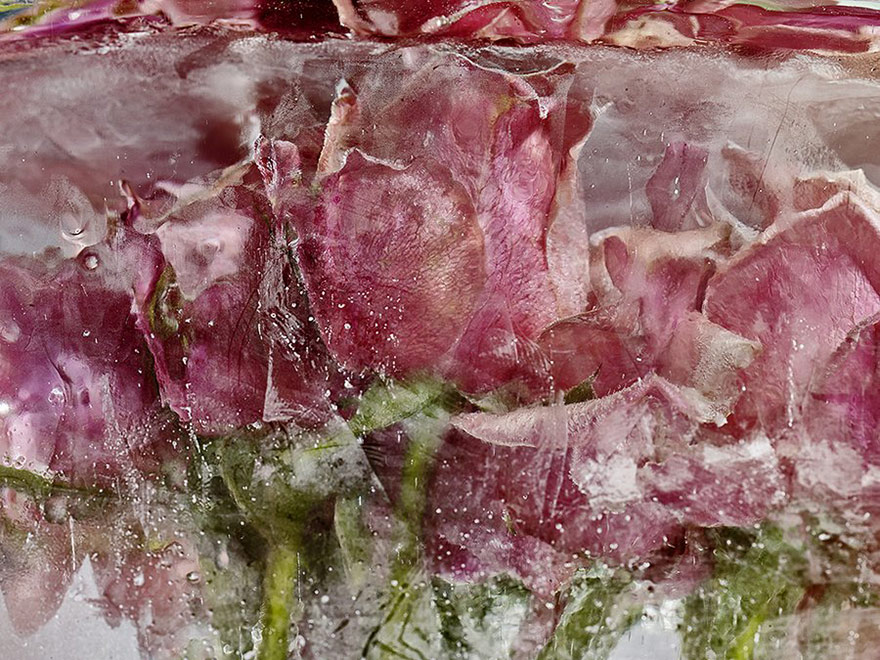 Source: Bored Panda
Possibly the best way to include this in a DIY wedding, though, is through something as unexpected as serving bowls.
While they may not be as grand and exotic as Makoto's ice sculptures, frozen flower bowls are an easy alternative that is still stunning, classy, and memorable. Making these frozen flower bowls is an old rustic trick used to add a bit of dazzling decoration during wintertime. For weddings, they are perfect for adding ambience as dessert bowls and candle holders.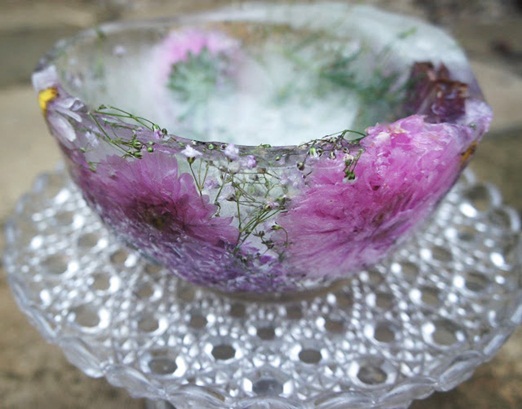 Source: The Natural Wedding Company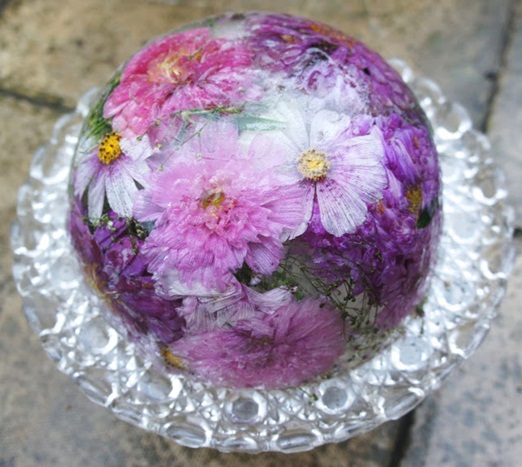 Source: The Natural Wedding Company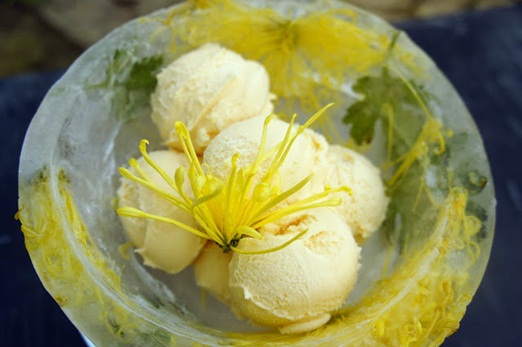 Source: The Natural Wedding Company
These frozen flower bowls add charm and daintiness to events. They are simple and last as ice for long periods of time for unforgettable winter events. In order to try making these flower bowls, you will need:
●1 pack choice color of Flyboy Natural's Freeze Dried Rose Petals
○Bridal Red Preserved Freeze Dried Rose Petals are a great option for classic winter weddings.
●1 large glass bowl
●1 small glass bowl
○Choose a bowl that is at least 2 times smaller than your large glass bowl.
●1 heavy can of vegetables
●Distilled water
Once you have all of the supplies, creating the flower bowls for your event is quick and easy. Follow these steps for all of the guests you are inviting to your wedding, and anticipate the compliments they give you after dinner about your decor.
1. In the large glass bowl, start to place down rose petals onto the bottom of the bowl. You do not need to cover the entire bottom of the bowl. However, make sure you have a fair layer of color.
2.Place the small glass bowl inside of the large glass bowl on top of the rose petals.
3.Place the heavy can of vegetables inside of the small glass bowl. This will help keep the small bowl from floating on the water once it is added, and help the ice form into a solid bowl shape.
4.There will be an empty space between the large bowl and the small bowl. Continue to add in freeze dried rose petals to this empty ring, including against the sides of the large bowl.
5.Pour distilled water into the empty ring between the large bowl and the small bowl until it fills. Place it immediately into the freezer.
6.Leave the frozen flower bowl in the freezer for at least four hours, if not more. Overnight will work most effectively.
7.When you are ready to remove the frozen flower bowl, run the rim of it under warm water for about five seconds. This will help loosen the bowls. Turn the larger bowl upside down and gently tap it until the flower bowl slides out. The smaller bowl should now slide off easily.
8.Keep your flower bowls in the freezer until you are ready to use them. Remove them at the last possible moment before use in order to ensure they stay intact.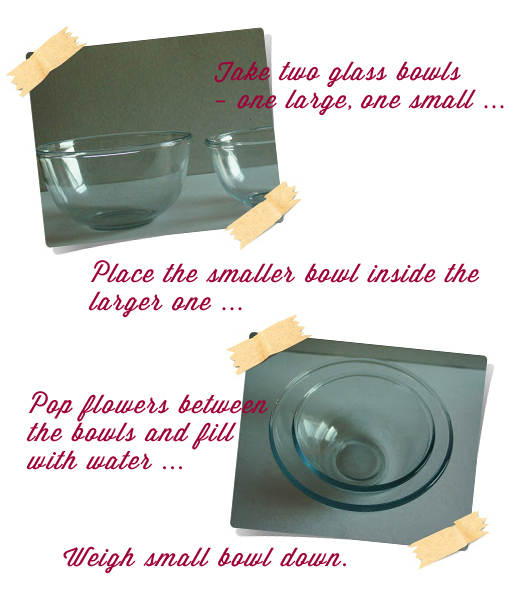 Source: Basics of Flower Bowls
This method of freezing flowers is not exclusive to bowls, however.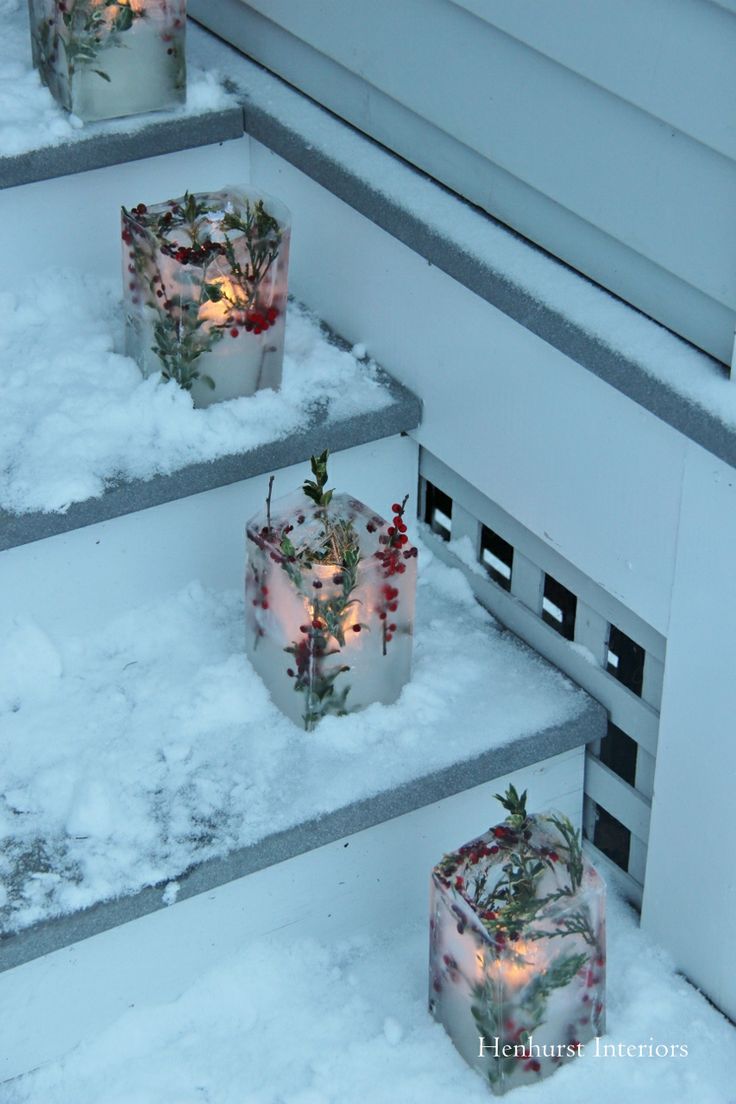 Source:Idei Dekoru
If you use your imagination, the possibilities for frozen blooms and artistic events are absolutely endless. You can make over 100 unique pieces by choosing one of every color of the rose petals we offer. Imaging the fun you will have creating your special pieces with stunning frozen petals. Please share photos of your creations!
Posted by Sarah Johnson|Flyboy Naturals on 27th Dec 2017